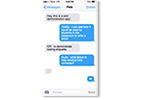 This one is running around social media today – probably from the ISTE crowd. Here's a simulator for today's popular text messaging apps. Teachers could use it for digital citizenship discussions and students could use it as a writing tool, maybe to write a script or to have difficult conversations.
—
The URL: https://ifaketextmessage.com/
And that's a wrap for the year. In fact, that's 20 years for The Teacher List! I'm not sure how we got to that number but a few of you have been with me since the start of it all – Wayne, Des, and of course, Mrs. Teacher List. Thanks to everyone for the continued support and I wish you a relaxing electronically, disconnected summer with friends and family.